Date/Time
Date(s) - 10/22/2017
3:30 pm - 11:30 pm
Location
Asian American Resource Center
It is time to celebrate the Diwali festival with delicious Gujarati food, live music and fun! The Gujarati Samaj Diwali event is planned for 22nd of Oct 2017. This year the show will be by a musical group from India, "Mystic Rhythm".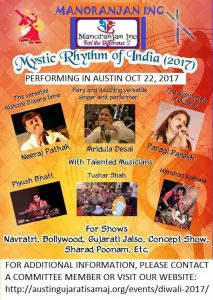 Tickets are now available for purchase online. Ticket prices are $20 for members and $25 for non-members. Members, kindly login to purchase discounted tickets.
Proceedings:
3:30 pm to 4:30 pm: Snacks and Tea
4:30pm to 5:30pm: General Body meeting (The General Body meeting is open to all members of the Samaj)
5:30pm onwards: Dinner followed by Show (Tickets for dinner and show now available for purchase online)
ANNUAL GENERAL BODY MEETING
Traditionally we also hold our new executive committee election during the  General Body meeting.
The nomination forms are attached here:
Nomination form-Executive committee
To nominate yourself or someone else, please fill the form and reach out to the nomination committee:
1. Satyajit Dodia (sdodia09@gmail.com)
2. Ashwin Ghatalia (ashwin_ghatalia@yahoo.com)
3. Subhash Vohra (subhash_vohra@yahoo.com)
Bookings
To purchase membership go to the membership option on the home page. To purchase member price tickets, you must log in and have a valid current membership. To purchase non-member tickets you must log out.