Date/Time
Date(s) - 10/15/2021 - 10/16/2021
7:00 pm - 11:00 pm
Location
Westlake Athletic & Community Center
Welcome! We are excited to have you at the Navratri celebrations this year!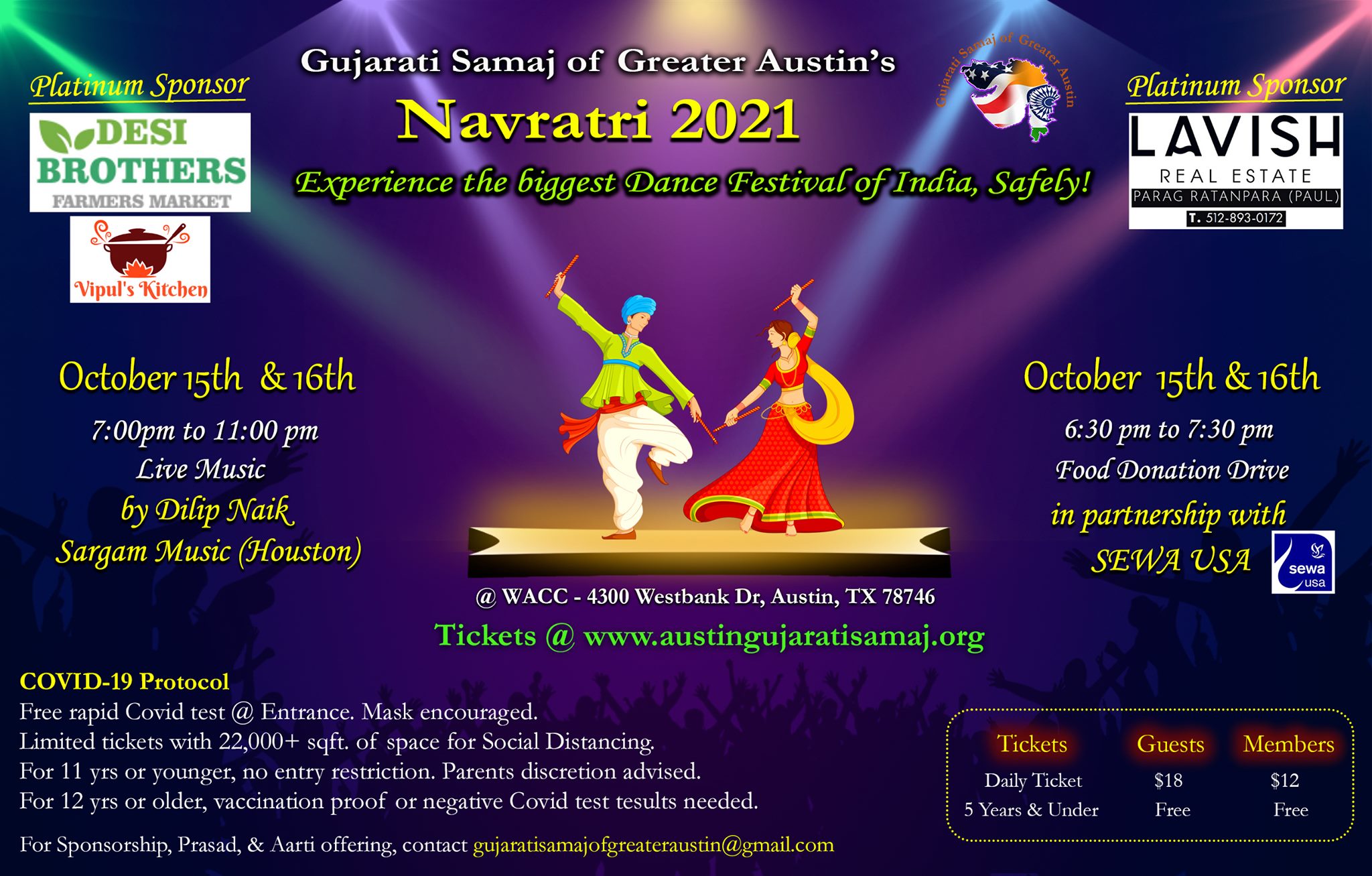 While the worst of COVID-19 seems to be behind us at the moment but we are still not completely out of it. Each one of us has to be very mindful and do our part to ensure we have a safe Navratri for all. Following basic tenets will be strictly enforced:
1. GSGA is implementing manual ticket checking for this event so that we can perform COVID-19 related safety verification. For security and safety reasons, the name on the entry ticket should match required verification documents to enter the event.
2. Each ticket is tied to an individual. Please make sure to enter the full name as its used for verification when you purchase the ticket. (No ticket required for kids below 5 yrs of age)
3. Each person above 18 years, will be required to show a valid ID.
4. Each person above 12 years, would be required to show a proof of either COVID-19 vaccination OR negative test results within last 72 hours. Rapid test will be available at the venue, free of charge!
5. Kids below 12 are welcome (at parent/guardian discretion).
6. By purchasing tickets for Navratri 2021 event, you are agreeing to COVID-19 Liability Waiver and Terms & Conditions. Please take sometime to review this before purchasing your tickets.
Please reach out to us on gujaratisamajofgreateraustin@gmail.com if you face any challenges.
Advertising and Sponsorship
If you would like to advertise or sponsor at Navratri, please reach out to us on gujaratisamajofgreateraustin@gmail.com
Aarti and Prasad
There are limited number of slots for Aarti. If you are interested in bringing Prasad for the Event, or if you would like to perform Aarti, or make a donation, , please reach out to us on gujaratisamajofgreateraustin@gmail.com
Important Notes for Members:
If you were a member for September 2019 to August 2020 cycle, your membership has been extended till December 31, 2021.
We understand that some member families have more than four members in family. Please purchase the four Member Tickets for the days you plan to attend and email us at gujaratisamajofgreateraustin@gmail.com to request for additional member ticket providing these details: Day, Type of Ticket, Name, Age, Relationship to Member.
Please, do not purchase tickets for non-members. We are a non-profit and we need everyone to support the Samaj so we can continue to bring you events throughout the year.
PS1: Due to COVID-19 new membership registration is paused for now. Please book as a guest. 
PS2: For Guest, looking to book more than 15 tickets/night, please reach out to us at gujaratisamajofgreateraustin@gmail.com
PS3: If you see a screen like below after checkout, please just click "Resume Payment" button and it should go through fine.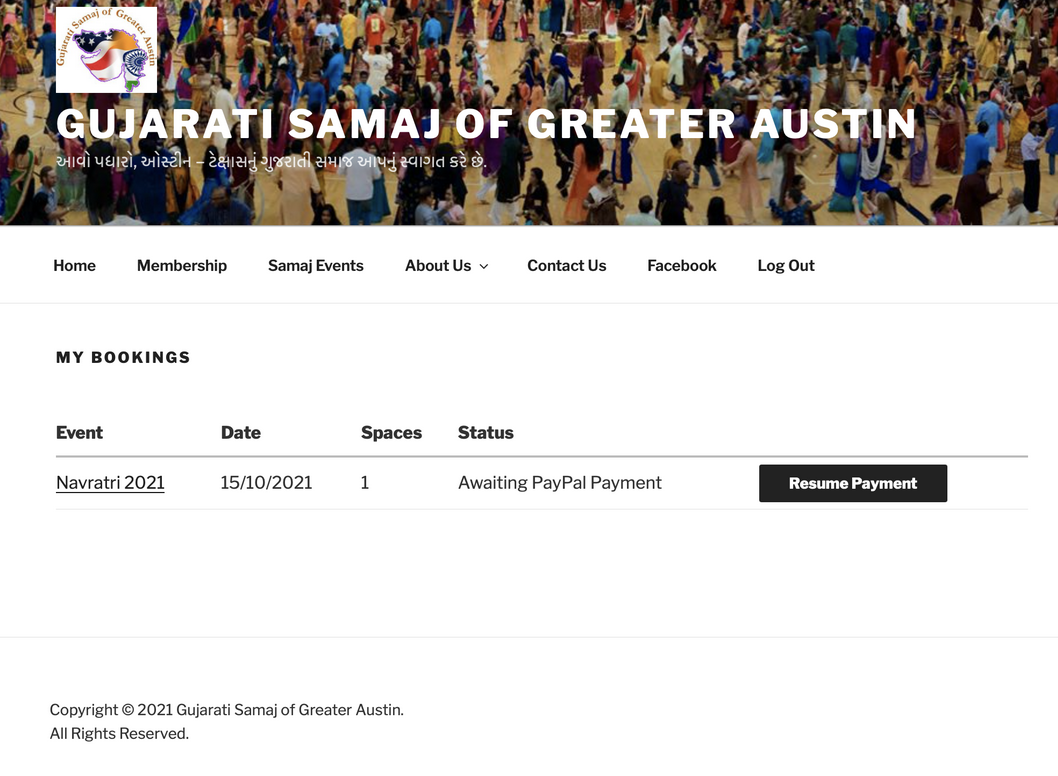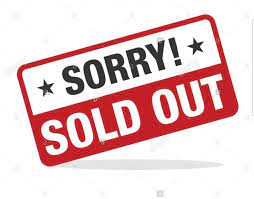 Bookings
Bookings have closed for this event.